William Hogarth
1697-1764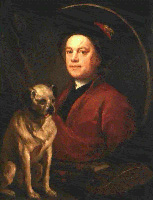 Self-Portrait




PLACES:



CFGA - William Hogarth

The William Hogarth Archive


William Hogarth, one of the greatest British artists of the 18th century, won fame principally for his moral and satirical engravings and, to a lesser extent, for his portraits and commentaries on art. Born in London on Nov. 10, 1697, Hogarth knew poverty and disgrace from an early age. His father's business failure led to the entire family's imprisonment for debt for five years. This face-to-face encounter with the sordid side of contemporary life, coupled with a Presbyterian belief that art should serve a moral purpose as well as an aesthetic one, lent Hogarth's mature work an uncommon combination of pungent realism and strong moralism.

After an apprenticeship to a silver-engraver, Hogarth received more conventional art training at private academies, including the one run by Sir James Thornhill, whose daughter he was to marry in 1729. He first became known in 1726 for his illustrations for the novel Hudibras, by Samuel Butler. Hogarth began painting about 1728, producing small group scenes such as A Musical Party (1730?, Fitzwilliam Museum, Cambridge) and his beautifully executed Beggars' Opera (several versions, 1728-31; including one at the Tate Gallery, London), depicted as it was acted on the contemporary stage.

His first notable series of prints was A Harlot's Progress (1732), which not only marked the first appearance of a new type of picture, the modern moral subject, but also gave the artist financial independence. The six Harlot prints trace, with mordant wit, the moral corruption of a young country girl after her arrival in London, largely through the use of closely observed details.

All of his subsequent moral-subject engravings similarly employ details as narrative devices. A Rake's Progress (1735) tells the story of an increasingly dissolute young man who ends his days in the Bedlam Royal Hospital, the London insane asylum. The collapse of an aristocratic marriage is illustrated in the series Marriage à la Mode (1745); two different types of apprentice are contrasted in Industry and Idleness (1747); and the corrupt practices of contemporary election campaigns are attacked in the Election series (1755-58). In all of these prints, a keen observation of contemporary life is expressed with a vivacity and a flair for narrative, derived to some extent from 17th-century Dutch genre painting. The elegant French rococo style is evident in Hogarth's early portraits. He made two visits to France, in 1743 and 1748; the latter trip resulted in one of his best-known satirical paintings, The Gate of Calais, or O the Roast Beef of Old England! (1748; National Gallery, London), an attack on French insolence.

Two of Hogarth's most ambitious, although least characteristic, works are the murals The Good Samaritan and The Pool of Bethesda painted on the staircase of Saint Bartholomew's Hospital, London, from 1735 to 1736. Among his exceptional portraits are the famous Garrick as Richard III (1745, Earl of Feversham Collection) and The Shrimp Girl (1759?, National Gallery, London). Hogarth, wishing to improve both the quality and the status of British artists, founded (1735) in St. Martin's Lane the most important art academy in London prior to the establishment of the Royal Academy. He also organized the first public exhibition of contemporary British art (1747) at the London Foundling Hospital.

In 1753 Hogarth wrote The Analysis of Beauty, a statement of his aesthetic principles. Four years later he was appointed sergeant painter to George II. During the last five years of his life, Hogarth was engaged in political feuds with the controversial British political reformer John Wilkes, whom he had satirized in an engraving. Wilkes retaliated with an attack on Hogarth's painting Sigismunda (1759). Hogarth's last engraving, The Bathos, intended as a farewell work, was published in 1764. He died in Chiswick on October 26, 1764. On his monument is an epitaph written by his friend, the actor David Garrick.


References:


1996 Grolier Multimedia Encyclopedia, Copyright 1996 Grolier Interactive, Inc.

Microsoft Encarta 98 Encyclopedia, Copyright 1993-1997 Microsoft Corporation.